It's nearing in on the end of July and that means two things:
1. the new zipper pouches will be in ArtistWalk for the beginning of August
and 2. new items coming to my etsy shop!
i have a few new items in mind that i'll be concentrating on which totally include monsters and pocket monsters and a few more sewing projects which is nice too. I really don't use my pink sewing machine (a.k.a the Ed Gein Machine) as much as i'd like.
which reminds me, i'll be applying to a textiles program at my old college which will help me with my sewing skills as well as be taught nearly everything to know about textiles including printing and other textile sweetness. cross your hearts for me to get in!
although i haven't sold many items, the word of my shop is spreading! i pushed through the journalism program i was in and made some good friends along the way, which is also good for the shop. A friend of mine,
Chris
has written an interview article about me and my shop for an arts and culture magazine. it's a freelance bit and may not get into the magazine but he has promised me a copy of it once it's done so i will definitely post on here once i get that.
also, another school friend has mentioned to one of the editors of
Canadian Family Magazine
about my monsters. now this is way into the beginning stages of getting the word out there but thanks to
Alicia
for getting the ball rolling!
apart from these great brains helping me out in covering the world in yarn, i had yet another tagging adventure! this time i did the handle to a bench in a bus shelter, again near my old college, found at the corner of Marlborough and Trafalgar: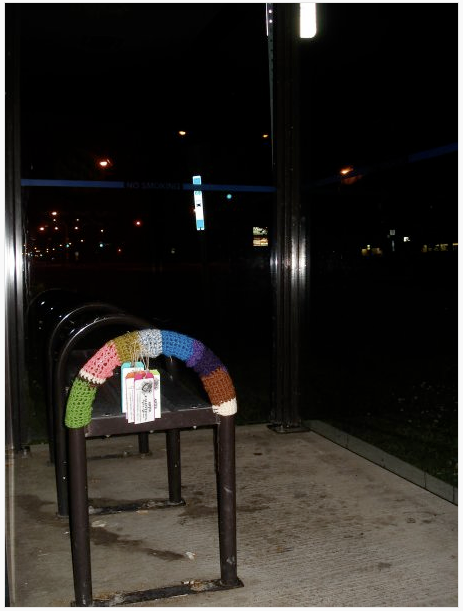 now i'll leave you with a stop-action video which i found to be way too cute to not post!